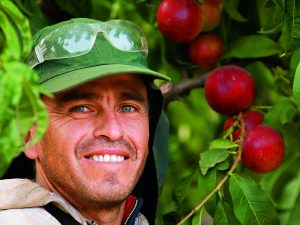 Rafael Carreño. 38 years old, married, 3 children
Valparaiso Region
The orchards and vineyards of the Aconcagua Valley are fed by more than a hundred canals and aqueducts, each carrying glacial run off from the Andes via the Aconcagua River and its tributaries. This valley was the natural first choice to be planted in the early years of the Chilean fruit industry. Today, it produces the largest variety of fresh fruits of all the ten growing regions of Chile, and even twice the amount produced by Coquimbo Region to the north.
The Aconcagua Valley is separated into three major growing regions. One is coastal and two are inland; Quillota, San Felipe and Los Andes respectively. Although San Felipe and Los Andes are located in separate valleys, they enjoy similar climates. The climate is very much like the lower San Joaquin Valley of California, but with lower night time temperatures. This phenomenon provides the region with stone fruits, grapes and red apple varieties with good color. The coastal valley of Quillota has an exceptional climate for sub-tropical fruit such as avocado, where 65 % of the Chilean avocado production is grown.
It has a diverse grid of panoramas throughout the year and with the classic Casino de Juegos de Viña del Mar. A region that catches you with its charm and innumerable magical corners that is waiting for them to be discovered.