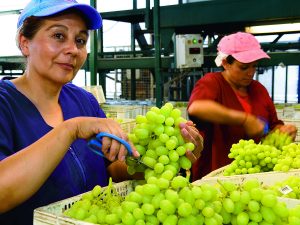 Silvia Valenzuela. 40 years old, 1 daughter 
Melting glaciers from the Andes Mountains send icy rivers to the desert floor below, where they carve deep valleys fortified by the nutrient-rich runoff. It's a phenomenon unique to Chile, and Atacama is one of the finest examples. Atacama's Copiapó Valley is the first of Chile's growing regions to harvest and export fresh grapes each season.
The region is divided in two sections: the Upper Valley, located closer to the Andes, and the Lower Valley, closer to the coast. Overall, the climate of the Copiapó Valley is much like California's Coachella Valley, receiving very little rain during the brief winter, but the average temperature difference between the Upper and Lower Valleys produce a difference of 20 days, in the harvest dates.