Karen Brux, Director of Marketing of the Chilean Fresh Fruit Association of North America (CFFA), and Charif Christian Carvajal, ASOEX Marketing Director for Asia and Europe, held several meetings to analyze the promotional campaigns carried out to boost the consumption of Chilean fruit in the US and European markets.
According to data from ASOEX, during the 2015-2016 season, Chile exported more than 2.5 million tons of fresh fruits to the different markets, 34% of which was destined for the United States and Canada; and 22% to Europe.
The marketing directors met with top representatives of ASOEX, ProChile, Fedefruta, ASOEX's blueberry, citrus, cherry, kiwis, and table grapes committees with whom they analyzed promotional actions and results. In addition, they toured citrus orchards, where they could visualize the quality of the fruit and prepare short promotional videos.
North America
The US and Canadian markets are the main destination for Chilean fresh fruit, in terms of volumes. In 2015-2016 they received more than 840 thousand tons of fruit,  4% more than in 2014-2015 campaign. To boost these volumes, the CFFA, together with ProChile, and the blueberry, citrus and cherry committees has conducted several initiatives with very positive results.
"We are carrying out comprehensive marketing activities in the 2016-2017 generic campaign, we perform various actions in order to reach retailers and final consumers. These actions include exhibit competitions among retail stores, as well as tastings, and point-of-sale promotions at supermarket stores in various states of the United States and Canada. The Chilean fruits are also being promoted in social media networks, in the platforms of the retail chains, and in Fruits From Chile, achieving a successful response from users," said Karen Brux.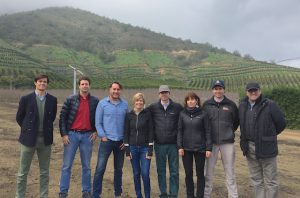 The Director of the CFFA, said that six new retail chains were added to the 54 in which it carried out promotional programs, obtaining very good results in the increase of sales of Chilean fruit, which rose by 50 to 652 percent, depending on the store and supermarket.
"We've completed more than 63 thousand days of campaigns and tastings for 732 days in the retail sector. We have consolidated a network of strategic partners for our actions that include retailers and different professionals, such as nutritionists, dietitians, and chef, among others. Our social network actions have been viewed more than 2 million times," said the professional.
To boost social networking promotions, she said, the CFFA launched 9 new recipes and 4 new videos, which are very popular, as they teach people how to prepare a recipe based on Chilean fruits in less than 1 minute.
Brux also highlighted the participation in International Fairs such as PMA Fresh Summit and local fairs, as well as actions with representatives from the US retail and press, who were invited by CFFA and ProChile to Chile, where they visited orchards, packings facilities, ports, and the Fruit Technology Consortium.
Europe
During 2015-2016, Chile exported more than 549 thousand tons of fresh fruits to Europe, where they also conducted promotional actions focused mainly on retail, distributors and buyers to boost consumption.
"So far this year 2017, we can highlight our participation in Fairs like Fruit Logistica in Germany, where we achieved getting more than 50 new buyers, and which included the participation of more than 100 professionals from 40 fruit exporting companies in Chile. In addition, during the London Produce Show, we were able to hold specialized press meetings, talk about our industry, get six new buyers, and perform a cooking show carried out by a chef from Harrods," said Charif Christian Carvajal.
Carvajal highlighted the sector's participation in the Green Week, which was held in Germany in January 2017, and where they had a culinary show of blueberries.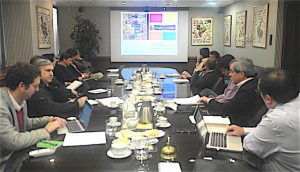 "This fair is important, because it allows us to reach the final consumer, so it is a very good platform to inform consumers about the product's availability, its quality and safety characteristics, its health benefits, and different forms of using it in preparations. On the occasion we were joined by Chilean Chef Ricardo Gonzalez, who recently helped the industry win an international culinary competition in China," said the marketing director.
The professional also highlighted the meetings between Spanish and Italian distributors and importers with ProChile's business units to discuss concerns and how the national fruit arrives to said markets.