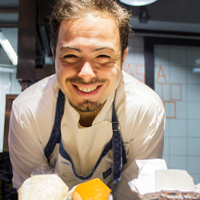 Event Description: A cooking demo for press and bloggers was organized in Taipei in order to promote the use of fresh blueberries in Taiwanese homes. With the help of Chef Andrea Bonaffini, three recipes were prepared and cooked by the participating media, all of which were easy daily-life recipes, so that they can be replicated at home. Through them, blueberries were included in a salad, a dessert and a breakfast option, with the goal in mind of including blueberries in cooking. By aiming to media and bloggers, the event represented a platform for the diffusion of the promotion on blueberry consumption, as well as the positioning of Chile as a reliable source of healthy and safe blueberries.
The event opened with the welcoming remarks of the Director of the Chilean Trade Office in Taipei, Ms. Rose Marie Bedecarratz. It followed with a brief presentation conducted by the Chairman of the Chilean Blueberry Committee, Mr. Andres Armstrong. After the introductions, Chef Bonaffini showed one by one how to prepare the recipes, so that the participants could recreate them, take photos and report back on the benefits of blueberries. The coverage achieved can be followed in the final section of this report.
Promotional material:
Press release
Recipe print-out
USB with files and photos of the event
Jar with fresh blueberries
Blueberries from Chile brochure
Goals of the event:
Promote the consumption of fresh blueberries in Taiwanese homes: The consumption of blueberries in Taiwan is largely focused on bakeries and dessert processors. The goal of the event is to foster the use of fresh blueberries as part of the daily diet of Taiwanese, improving their sales in retails and fruit markets.
Position Chile as a source of blueberries: While roughly 47% of the blueberries in Taiwan are from Chile, there is a need to conduct a stronger positioning of Chile as a reliable source of tasty blueberries.
Highlight the properties of blueberries: With a high level of antioxidants, vitamin C, and a very low level of calories, these berries represent an important source of nutrition which is very valuable to the body.
Event participants:
公司名稱 Company name
肥到深處無怨油
Chez Famiwy飲食宅記
4 foodie
Cartoon Foodie
巨鳥胃77
陳可瀅
陳可瀅(伴)
ifoodie.tw
Foodiary
Banbi.tw
Bios Monthly
料理台灣
食力
康健
La vie
中國時報
工商時報
好吃
Sense
Taiwan Tatler
The China Post
好口福
夢想誌
台灣角川雜誌
蘋果日報