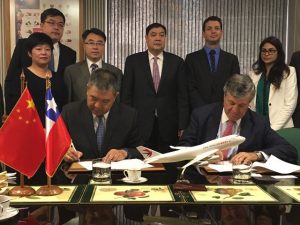 The Memorandum of Understanding (MoU) between ASOEX and China Eastern Airlines will facilitate fresh fruit exports from Chile to China and also aid with promotional campaigns, especially for cherries and blueberries
The Association of Fruit Exporters of Chile (ASOEX) signed a Memorandum of Understanding with China Eastern Airlines to facilitate air exports of Chilean fresh fruit from Chile to China, especially blueberries and cherries, as well as to develop different promotion activities for these fruits.
"This is a very large airline, and the fact that its president has come to sign this agreement reflects the opportunity there is for mutual collaboration, not only in terms of logistics, but also with other activities that will be developed to boost our cherries in China", ASOEX president Ronald Bown said.
On the other hand, the president of Eastern Air Logistics Co Ltd, highlighted the quality of Chilean cherries and pointed out that they were a perfect match for the airline, as service quality was also critical for them. He added: "We hope this agreement is the beginning of a closer relationship with ASOEX and the arrival of a greater amount of quality fruit to China."
Rodrigo Contreras, who is in charge of International Affairs at the Ministry of Agriculture, said: "We've been working with Asoex for a long time. We are pleased to be a part of this agreement, which will benefit our fruits. The agreement is the continuation of the promotion of Chilean cherries that was made with this same airline last season."
The signing ceremony was attended by Ronald Bown, president of Asoex; Enrique Lira, of the General Secretariat; Ignacio Caballero, assistant manager of marketing; Santiago Contreras, marketing analyst, and Andrés Armstrong, executive director of the Chilean Blueberry Committee. Representing China Eastern Airlines were Li Jiupeng, chairman of Easter Air Logistics Co. Ltd. (EAL); Feng Huifang, general manager of EAL America; Steven Fang, vice president of Shanghai Eastern Airlines Co. Ltd. Express; Tian Liuwen, executive vice president of China Earsten Airlines Co Ltd, and Guo Junxiu, general counsel for the China Eastern Air Holding Company.